In today's age, the amount of people getting hooked into games of blackjack - in land based casinos as well as free online blackjack just keeps getting higher. Actually, it is now considered as one of several common and most-loved games in casinos. This is probably because it is fairly easy to learn how to play blackjack and with proper strategies, players can lower the edge of the dealer while simultaneously getting an advantage to winning the overall game. You have to have an in-depth knowledge not only of blackjack rules but also of the blackjack strategies and blackjack tips to learn how to win at blackjack.
Blackjack Basic Rules
Learning how to play blackjack, as stated above, is easy. Blackjack just like poker is played with a standard deck of 52 cards. However most of the casinos use more decks. Players (up to 7) have to

beat the hand value of the dealer

by having a total hand value higher than that of the dealer's, but the total hand value should not exceed 21. This is the reason why blackjack is also fondly called 21.
Rule One:

You have to know the card values in order to learn how to play blackjack and win. The numbered cards have values corresponding to their number, while the face cards have a value of 10. The Ace, on the other hand, can either have a value of 1 or 11, depending on how much you will need to make a winning hand.


| | | | | |
| --- | --- | --- | --- | --- |
| | Ace with value 11 | | Ace with value 1 | |
Rule Two:

This rule is another very important rule essential to learn blackjack, and that is to come up with a hand value higher than the dealer's but not more than 21. Should your hand value total to more than 21, you automatically lose the game - bust. In case dealer has the same hand value as player it's push - tie.


| | | | | | |
| --- | --- | --- | --- | --- | --- |
| | Hand value 23 - Bust | | Dealer has 18 | Player 18 - Push | |
Rule Three:

All winning bets are paid at 1 to 1 odds (you bet $10 - you win $10). Blackjack (ace and face card) is paid at 3 to 2 odds (you bet $10 - you win $15).


| | | | | |
| --- | --- | --- | --- | --- |
| | Blackjack pays 3 to 2 | | Winning bet pays 1 to 1 | |
Playing the Blackjack Game
After you learn how to play blackjack basic rules you have to learn how are the blackjack games played. Below are the actions of players and dealer you need to know to learn to play blackjack and of course to learn how to win at blackjack games.
| | |
| --- | --- |
| | Players Actions |
Biggest part of house edge in blackjack is based on the fact that players have to draw before the dealer.
First players have to

make a bet

. Then dealer hands two cards to each of the players (face up or face down). Dealer also receives two cards, one of them is face up and the other is face down.


| | | | | |
| --- | --- | --- | --- | --- |
| | Place bet | | Receive cards | |



The players then have the most important

basic drawing options

:



Hit - if you feel your hand value does not have good chance to beat the hand of the dealer
Stand - if your hand value has pretty good chance to beat the dealer


There are also

advanced betting options

players should get familiar with not only to learn how to play blackjack online but to maximize your chance of winning:



Surrender

- if you do not like your first two cards you can surrender (if the particular blackjack rules allow it) losing only half of your bet. When players learn blackjack and use this option effectively (usually when dealer has up card 10 and players has card value of 15 or 16), it can further decrease the house advantage essential to learning how to win blackjack consistently.



Split

- you have this option if yo are dealt a pair. You have to place a new same size bet to split and play each hand separately. Basic blackjack strategy recommends to split cards like aces etc. Split is another important option when learning how to win at blackjack.




Double Down

- double the bet initially placed because of promising first card. Always decide based on your first card and up-card of the dealer. The ideal situation is when you have higher card and when the dealer has card with lower value. This option can be important when you learn blackjack tournaments strategy.



Insurance

- if an ace shows up in the hand of the dealer, then you can go for insurance. You have to place half of your initial bet and if the dealer, indeed has blackjack you lose original bet but insurance will pay double. If dealer doesn't have blackjack you lose both bets. Insurance bet is not recommended and players that know how to win blackjack games never place this bet.


| | |
| --- | --- |
| | Dealer Actions |
Dealer does not have to do that many decisions. His actions are based on blackjack game rules. It's very easy to learn blackjack dealer actions. The game could be dealt by machine.
Hit

- dealer hits unless he reaches the required total hand value, most of the time 17. Each casino has a rule whether or not the dealer hits soft 17 (ace has soft value - 11 and hard value - 1). The online blackjack game where dealer hits soft 17 is less favorable with higher (around 0.2%) house advantage.


Stand - dealer stands when he reaches the required card value, if he has more than 21 dealer busts and players that did not bust win.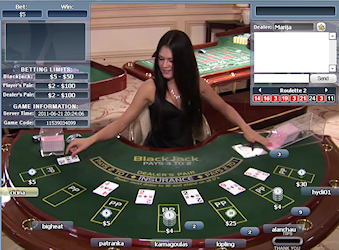 Learn How To Play Blackjack at Casinos with Blackjack Strategy Chart
online casino
restricted countries
software
details
IL, PR
Top Game
More Details
USA, TR, HK
Microgaming
Learn Blackjack at Best Casinos Online
online casino
restricted countries
software
details
USA, TR, HK
Microgaming
More Details
IS (Israel)
Real Time Gaming (RTG)
USA, BG, GE, DE, HK, IL, TR
Playtech
All Best Blackjack Casinos
Blackjack Variations & Odds
variation
casino edge
basic info
available at casino
Single Deck
0.5%
1 deck, dealer hits soft 17, no double down after split
Switch
0.6%
dealer hits soft 17, switched blackjack pays 1 to 1
Double Exposure
less than 1%
8 decks, dealer hits soft 17, player can see both dealer cards, dealer wins on ties, BJ pays even money
Best Blackjack Books - How to Win at Blackjack
Best Blackjack Instructional DVD
Basic Blackjack Tips
never make insurance bets
surrender can further decrease casino edge
never split 10 value cards
Follow Casinator Updates




& never miss blackjack rules updates
Learn How to Play Blackjack and Win
by Casinator.com